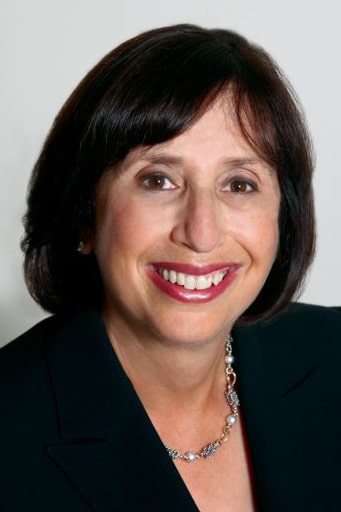 Shelly has lived in Westport since the summer of 1989. Born in Albany, New York, she graduated from Wellesley College in 1975, and worked in Washington at the Congressional Budget Office the year of its inception. She received her MBA from Harvard Business School in 1978, and then joined the audit staff at Coopers & Lybrand in Boston, becoming a CPA in 1980.
Once in Westport, Shelly immersed herself in the community—becoming a room mother at Coleytown Elementary School, and involved in the PTA. She chaired the religious school committee at The Conservative Synagogue, and assumed the presidency of TCS in 1993. During her term, the synagogue submitted its application for a permanent home to the P&Z, and conducted a successful capital campaign. Through this process, she came to learn much about town government, and in 1997, was elected to the Board of Finance.
Shelly's two terms on the BOF encompassed exciting years, including the renovation and expansion of our school buildings, the purchase of Baron's South and Allen's Clamhouse, the construction of the Senior Center and the Longshore Pavilion.  Over the 8 years, she worked on a variety of analytic projects, collaborating with her colleagues on the planning model and the review of insurance reserves.
As Selectwoman, Shelly focused immediately on senior tax relief and the implementation of a Westport Farmers Market. She continues to work on a broad range of financial issues, and serves on the Plan of Conservation and Development Implementation Committee and the Domestic Violence Task Force. Two of her key concerns are the Barons South housing initiative, and as part of the Celebrate Westport initiative, working with our non-profit organizations to coordinate and strengthen activities.
In addition to her responsibilities in town government, Shelly serves on several non-profit boards, including: Achievement First Bridgeport Academy, a charter school in Bridgeport; The Washington Institute for Near East Policy, a think tank making policy recommendations regarding the Middle East; the Anti-Defamation League; and the Laura Hartenbaum Breast Cancer Foundation, organized in memory of a close friend in order to raise money and educate women about breast cancer. She is very active in the America Israel Public Affairs Committee and is a member of Sunrise Rotary.
Shelly is the recipient of several awards for her dedication to the community, including the ADL Community Service Award in 2000, the Westport/Weston Family Y Faces of Achievement Award in 2004, the Paul Harris Fellowship Award in 2006, the United Jewish Appeal/Federation Community Service Award in 2007 and the Bi-Cultural School Service Award in 2008.
Shelly has been married to Michael Kassen for over 30 years, and is proud of her 3 daughters, Diana (26), Amy (24) and Laura (19)!