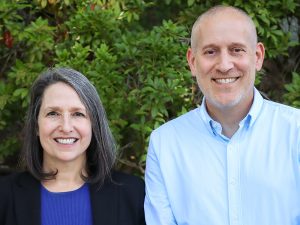 Board of Education – Lee Goldstein and Neil Phillips are currently serving on the Westport Board of Education. Both Lee and Neil cultivate collaboration and consensus-building. They know that public schools are the heart of our community and drive its economic success.
Lee Goldstein, Chair of the Board of Ed,  has a four-year track record of leading Westport's top-ranked schools. As a Yale graduate, former high school English teacher, professional writer/editor and PTA President, Lee understands education. She and her husband, Charlie, educated their two daughters in Westport Public Schools.
Neil Phillips has lived in Westport for more than 30 years, practicing law at Lennon Murphy and Phillips, where he is a principal. Neil also served as an adjunct professor at Fair!eld University in their Business School. He has served on the Representative Town Meeting, chairing its Education Committee, and is now serving on the Board of Education for a second time. He and his wife, Kim, have twin sons in the Westport Public Schools.
Lee Goldstein and Neil Phillips believe in:
Proven Leadership
Earned #1 School District in Connecticut
Adopted fiscally responsible budgets
Welcomed community input and respected professional expertise
A Student-Focused Approach
Added state-of-the art programs, classes and services
Promoted individual pathways to success
Supported academic achievement and emotional well-being
Schools Where Everyone Belongs
Fostering a community where all students feel seen, heard and celebrated
Valuing all stakeholders
Approved a Strategic Plan to prepare students for the demands of a changing future