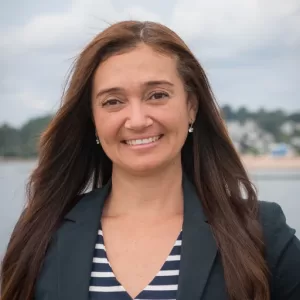 Christina has worked in education for 18 years and presently serves as an Assistant Superintendent in Westchester. She is thrilled to be nominated for the school board and is well-versed in the very different role board members play, opposite administrators.
Earlier in her career, Christina shifted to education from a career in Advertising with Omnicom Media Division (OMD). She pivoted to teaching through a fellowship and began her work in Special Education. After ten years as a Special Education teacher, Christina moved into School Administration as an Assistant Principal, and later, Director of Special Education.
Presently, in addition to her role as Assistant Superintendent, Christina also serves as a professor at both Pace and Fordham University where she prepares the next generation of educators and administrators. A graduate of Penn State University, Christina also holds two additional graduate degrees, in Special Education and Distance Learning, along with a doctorate in Education.
Almost two years ago, as career educators, both Christina and her husband, Ben, searched for the perfect NYC suburb in which to lay roots and raise their family. Moving to Westport only four months before the pandemic, getting "plugged-in" to their new community was a challenge. Like so many new transplants who have decided to call Westport home in the last year, Christina and Ben worked hard to connect with other parents, neighbors, and friends using Zoom, social media, and social-distancing outdoors. In her short (mostly virtual time in the area) Christina has been a large supporter of Malta House and A Better Chance, along with numerous other organizations serving those in need, nationally and beyond. She looks forward to contributing to the future of Westport as a member of the Board of Education.