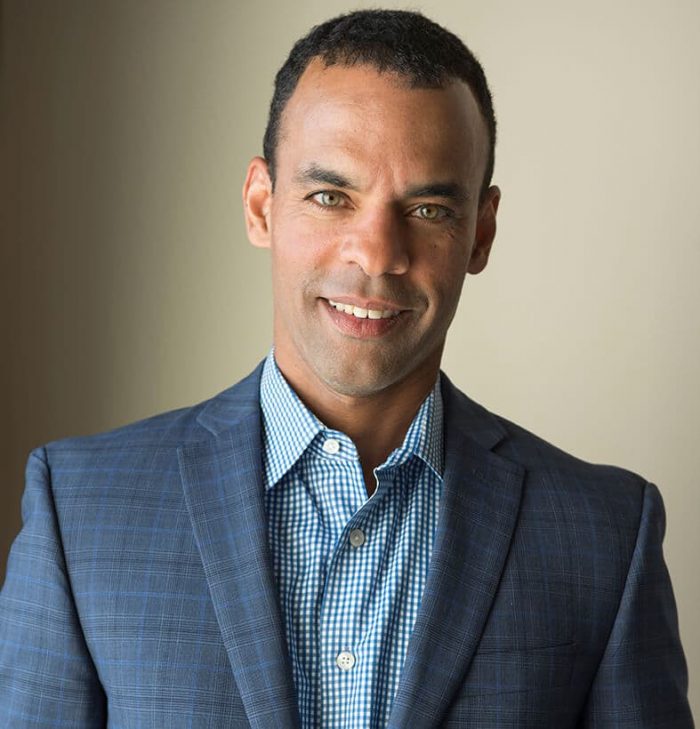 Rob Simmelkjaer has served as Senior Vice President of NBC Sports Ventures since September of 2011. NBC Sports Ventures is a division of NBC Sports Group, which forms joint venture partnerships and makes minority investments in a wide variety of sports-related businesses. It is headquartered in Stamford, CT. In addition to his executive position, Simmelkjaer serves as an on-air contributor across multiple NBCUniversal platforms, including NBC Sports, NBCSN, NBC Sports Radio, NBC News, MSNBC and CNBC. Simmelkjaer anchored MSNBC's coverage of the 2012 and 2016 Summer Olympics. Prior to joining NBC, Simmelkjaer served in a variety of roles at ESPN from 2003-2011. Prior to his tenure at ESPN, Simmelkjaer practiced law at two New York firms, Weil, Gotshal and Manges from 2000-2001, and Cravath, Swaine & Moore from 1997-2000.
Simmelkjaer has been active as a volunteer coach for Westport Soccer and Westport Softball, a parent volunteer at Kings Highway School and Landmark preschool, and is the Vice Moderator of the Northfield Congregational Church in Weston. He also has served on the Westport Zoning Board of Appeals since January 2016 and is on the Board of Directors of the Coalition to Stop Gun Violence (CSVG), a Washington, DC based organization which seeks to secure freedom from gun violence through research, strategic engagement and effective policy advocacy. Simmelkjaer also serves on the Board of Advisors of the Child Study Center of New York.
Simmelkjaer is a graduate of Dartmouth College and Harvard Law School. He lives in Westport with his wife and two daughters.
Save
Save